Decompensated Dyspneic Dilemma
Definition/Epidemiology of Hepatopulmonary Syndrome:
Hepatopulmonary syndrome (HPS), a term coined in 1977, has been increasingly recognized as an important clinical cause of dyspnea in decompensated cirrhosis, which can significantly impact mortality and influence liver transplant candidacy. It is a problem with the pulmonary vasculature, not the parenchyma, pleura, or diaphragm. It is now seen in up to 5-10% of patients who are undergoing evaluation for liver transplantation. Portal hypertension (including non-cirrhotic) is necessary for the manifestations associated with HPS. The presence of HPS may also influence the severity and frequency of portal hypertension-related complications.
The HPS symptom triad:
Underlying Liver Disease with portal hypertension
Pulmonary vascular dilatation (impairing gas exchange)
Defect in Oxygenation
Practical Tips:
If a patient has a PaO2 <70-80 mm Hg (preferably measured at rest, sitting) it is useful in helping identify clinically significant HPS. Severity of HPS significantly influences survival.
Major cardiopulmonary abnormalities should be excluded to establish diagnosis, though HPS can coexist with primary cardiopulmonary abnormalities.
Figure 1. Diagnostic Criteria

The pathophysiology remains unclear but many mechanistic hypotheses exist.
Portal hypertension is central to the development of HPS
HPS can develop in the setting portal hypertension secondary to cirrhosis or non-cirrhotic portal hypertension
Portal hypertension leads to micro-vascular dilatation of the pulmonary arterial circulation (due to angiogenesis, remodeling) leads to ineffective gas exchange à shunting of mixed venous blood à V/Q mismatch and decreased oxygenation (See figure 2)
There is also the absence of compensatory pulmonary vasoconstriction, which accentuates hypoxemia in patients with cirrhosis.
Why is there intrapulmonary vasodilatation? Short answer = Increased nitric oxide
Why is there increased nitric oxide in cirrhotics with HPS or in portal hypertension? Unknown.
Cool fact: Many studies have measured pulmonary production of exhaled NO in patients with cirrhosis. They are elevated with HPS and subsequently normalize post-OLT.
Figure 2. Pathophysiology of HPS

Respiratory symptoms with findings associated with cirrhosis and chronic liver disease are predominant.
Dyspnea (on exertion more commonly) usually after years of liver disease
Platypnea (dyspnea exacerbated when sitting up, improved by lying supine)
Orthodeoxia (hypoxemia exacerbated by sitting up in upright position)
Spider angiomata
Digital clubbing
Distal cyanosis
Important Trap: Do not mix up Porto-pulmonary hypertension with HPS
Obstruction of pulmonary arterial bed (due to portal vein mechanical obstruction) or hyper dynamic pulmonary circulation in the setting of cirrhosis leads to vasoconstriction, increased vascular resistance in the pulmonary vasculature, right heart failure and eventual death
Porto-pulmonary hypertension diagnosis is made by right heart catheterization
Treatment: Supportive care. No disease specific treatment modalities exist for HPS, aside from liver transplantation.
Survival without transplantation:
Overall survival in those not candidates for liver transplantation (due to comorbidities or age)

Median survival: 24 months
5-year survival: 23%

Survival worse among those with PaO2 <50 mm Hg
Survival with transplantation:
5-year overall survival of 76% after liver transplantation
Requirements for HPS MELD Exception for high priority liver transplantation: Must meet all 4 criteria
Splenomegaly, varices, ascites, or thrombocytopenia
Demonstrated shunt (either by ECHO or pulmonary scan)
PaO2 of 60mmHg or less on room air within 30 days
No underlying primary pulmonary disease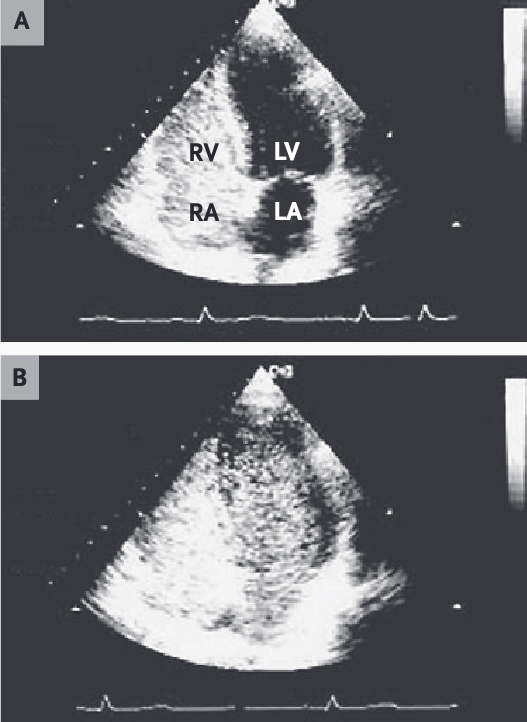 Understanding the Contrast-enhanced TTE with agitated saline:
Contrast is injected intravenously and TTE imaging is captured only after saline/bubbles are noted within the right atrium. Patient may be asked to cough or perform Valsalva maneuver to increase RA Pressure and creating a RA-to-LA pressure gradient

Negative study:

No bubbles visualized within the left heart after 2-10 cardiac cycles = No shunt

Positive study:

The presence of bubbles in 3-5 cardiac cycles (early) = Intracardiac shunt
The presence of bubbles in 4-8 cardiac cycles (delayed) = Intrapulmonary shunt

Figure A: Opacification of the right atrium and right ventricle with microbubbles shows the beginning of the study
Figure B: The opacification of the left atrium/left ventricle was after five cardiac cycles (delayed) confirming a intrapulmonary shunt, not an intracardiac shunt.