HepMadness is a multiplayer, educational game that takes place across social media. Anyone interested in hepatology can engage. HepMadness is an homage to March Madness - the NCAA Basketball National Championship Tournament. 16 articles from Liver Transplantation and Hepatology Communications were chosen by experts to face off against one another each week. Winners will be chosen each week by a panel of 7 esteemed judges. 
Here is how to engage in HepMadness
Go to HepMadness to see a full list of the 16 articles included in the bracket. On this page, you will be able to review a summary of the article ("scouting report") created by a trainee with oversight from hepatology faculty 
After familiarizing yourself with the articles, go to the bracket site https://woobox.com/dn7y7h where you can submit your predictions for which articles will win for each round. The winners will be judged by a panel of seven judges composed of five attending hepatologists and two trainees. The winner will be selected based on the impact of the question on the field.
Follow Liver Fellow Network on Twitter/X and tweet your thoughts using the hashtag #HepMadness with your thoughts. Updates can also be found on the Liver Fellow Network website. 
FAQs:
When can I submit my bracket selections?
Individuals will be able to submit a bracket until October 6th, 2023 at 5pm ET.
How do I submit my bracket using Woobox?
1.Go to https://woobox.com/dn7y7h 
2. Select "Vote" to select your prediction for each match-up in the the bracket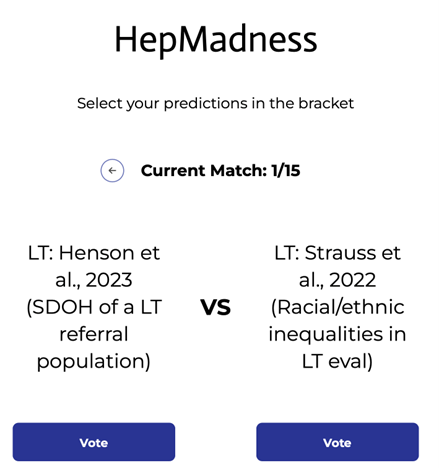 3. After selecting your predicted winner for each of the 15 rounds, enter your First Name, Last Name, and Email Address. Select "Submit Your Bracket" to submit your predictions!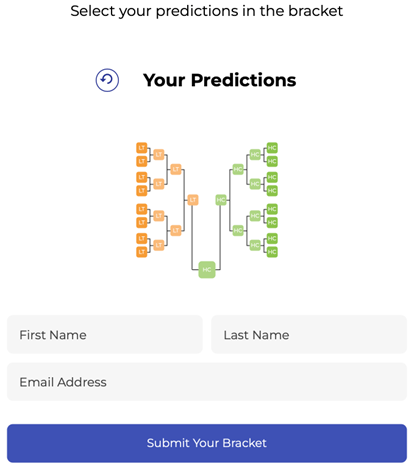 What is the timeline for the competition?
Each week on Monday the matchups will be posted on the LFN Twitter/X account to spur dialogue and discussion. At the end of each week, the judges will determine the winners that will go onto the next round, which will be announced each Sunday
September 25: Bracket entry opens
October 6: Bracket entry deadline
October 8: First round results: 8 remaining teams are named
October 15: Second round results: 4 remaining teams are named
October 22: Third round results: two finalists named
October 26: HepMadness 2023 Champion crowned
Who are the judges?
Faculty: 
-Ruben Hernaez (@ruben_hernaez)
-Danielle Brandman (@DBrandmanMD)
-Nadia Ovchinsky (@Dr_NOvchinsky)
-Annalisa Berzigotti (@docberza)
-Lauren Nephew (@LaurenNephewMD)
Fellows: 
-Nabeel Wahid (@NabeelWahidMD)
-Hanna Blaney (@BlaneyMD) 
Will there be prizes?
Public praise will be given to the top scoring individuals, but no formal prizes will be awarded.