Little Livers, BIG Problems! Gestational Alloimmune Liver Disease
Neonatal Acute Liver Failure
NALF is liver failure in infants < 30 days of age. It is distinct from other forms of pediatric ALF. One can think about NALF on a "fetal-neonatal continuum of liver disease" meaning that in NALF the hepatic insult may have occurred in utero and that patients with NALF may have cirrhosis – in contrast to the adult presentation and definition of ALF.
Pediatric acute liver failure is defined by coagulopathy not responsive to vitamin K, INR > 1.5 with presence of hepatic encephalopathy or INR > 2 without encephalopathy. Identifying encephalopathy in young children is extremely difficult, and it is virtually impossible in neonates. Therefore, in NALF, encephalopathy is not part of the diagnostic criteria. Coagulopathy is present in NALF, but since normal INR values can be as high as 2 in newborn infants, the criteria for abnormal INR in NALF is generally higher (usually > 3).
The leading differentials for NALF include GALD, viral infection, hemophagocytic lymphohistiocytosis (HLH),  mitochondrial hepatopathies and rarely galactosemia (though typically discovered on newborn screen if performed and, if not, most often presents after 30 days of life).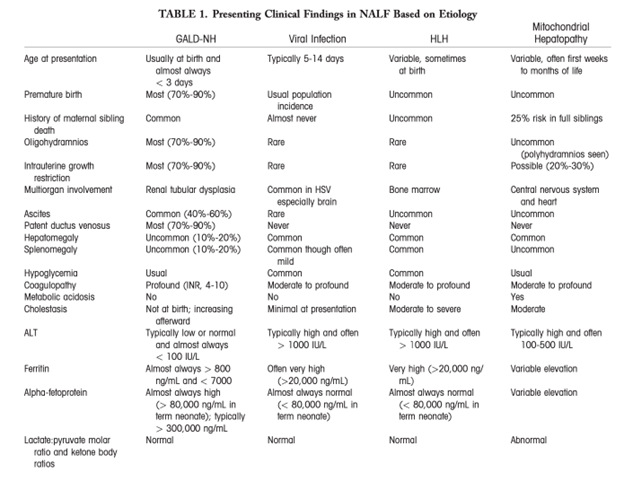 Presenting clinical findings in NALF based on etiology. Image taken from, "Neonatal Acute Liver Failure," Sarah A. Taylor, Peter F. Whitington, First published: 06 March 2016.
The most common etiology of NALF is GALD-NH, a maternal- fetal alloimmune disease process that causes severe fetal liver injury.
GALD versus Neonatal Hemochromatosis
 NH is a phenotypic description defined by severe neonatal liver disease and extrahepatic siderosis in a pattern similar to hereditary hemochromatosis.
Though GALD is the most common cause of NH, GALD and NH are not interchangeable terms. We can think of NH as an umbrella term for the phenotypic presentation of severe liver injury with the feature of siderosis in a neonate from any cause. Cases of confirmed NH from GALD are referred to as GALD-NH.
For example, in a case report of two neonates who were initially diagnosed with NH based on elevated ferritin levels, both were ultimately found to have HLH upon review of surgical and autopsy records. Hepatic injury, regardless of etiology, can result in the release of ferritin from damaged hepatocytes.
Causes of NH phenotype other than GALD-NH (which encompass ~ 2% of cases):
Perinatal infection
Trisomy 21
Deoxyguanosine kinase deficiency
Bile acid synthetic defect
GRACILE syndrome
Myofibromatosis
Tricho-hepato-enteric syndrome
Martinez-Frias syndrome
Pathogenesis of GALD
In cases of GALD-NH, it is hypothesized that during gestation, there is maternal exposure to a sensitizing fetal antigen. It is theorized that this antigen is expressed in the developing fetal hepatocytes and therefore maternal-fetal alloimmune attack occurs, activating the terminal complement cascade. This results in injury and death of these developing hepatocytes, leading to a lack of normal mature hepatocyte development in the fetal liver and the proliferation of progenitor cell tubules and extensive fibrosis. The process typically starts midgestation, resulting in liver failure and/or cirrhosis by term.
Some investigators identified transcriptional signatures in GALD-NH that were distinct from other etiologies of NALF, capturing its unique alloimmune process.
Diagnosis/Treatment Algorithm
Patients presenting with NALF require a thorough an expedited evaluation as etiology-specific treatments exist. Evidence of infection, HLH, and mitochondrial hepatopathies as mentioned above should be evaluated (see details here). If GALD is suspected based on the clinical and laboratory presentation, extrahepatic siderosis (i.e., NH) may be identified by MRI or buccal biopsy, although it should be noted that a small percentage of GALD cases may present in a sub-acute form with NALF without NH and cirrhosis. With a clinical picture consistent with GALD, the diagnosis of GALD-NH is established if either diagnostic modality demonstrates iron overload. If both tests are negative, a liver biopsy may be pursued and stained for C5b-9 (membrane attack complex) and evaluated for other histopathologic features of GALD, as well as for evidence of any other cause of NALF. Notably, C5b-9 staining is neither pathognomonic of GALD nor required for a diagnosis of GALD, though a positive stain can support the diagnosis in the right clinical context.
There is great utility in the use of genetic analysis to evaluate for primary immunologic causes of liver failure, such as primary HLH, which can mimic GALD-NH. Targeted gene panel sequencing or whole-exome sequencing (WES) should be utilized for infants in liver failure with unclear etiology, as findings could lead to diagnosis, guide treatment, and even avoid liver transplantation when contraindicated.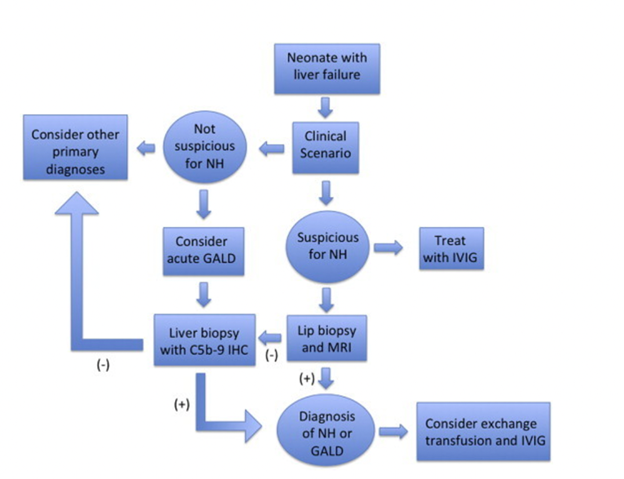 Diagnostic algorithm for NH. Image taken from Feldman and Whitington, Journal of Clinical and Experimental Hepatology, 2013.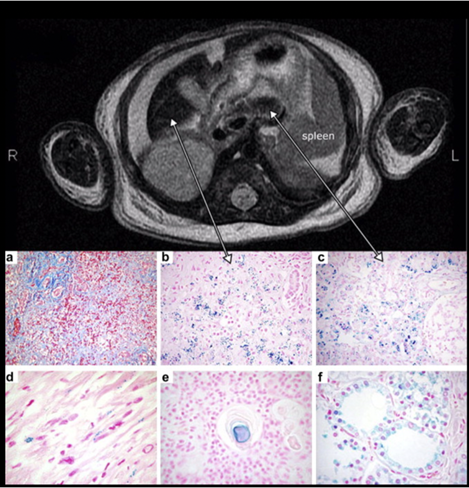 MRI findings of an infant with NH, with reduced T2 signal intensity in the liver (left) and pancreas (right). Histology demonstrates significant hepatic injury and iron deposition in the liver (b), pancreas (c), myocardium (d), thymus (e), and thyroid follicles (f). Image taken from Feldman and Whitington, Journal of Clinical and Experimental Hepatology, 2013.
Treatment
Without intervention, the prognosis for GALD-NH is poor. Past attempts to treat GALD-NH included antioxidant cocktails and iron chelators, interventions that were associated with suboptimal outcomes. Only 17% of patients survived without transplant.
When underlying mechanisms of GALD-NH were further elucidated, a new treatment regimen was introduced:
Double-volume exchange transfusion (DVET) → to remove existing antibodies
High-dose intravenous immunoglobulin → to block antibody induced complement activation
This combination regimen led to improved outcomes compared to controls. One study found that 75% of infants who were treated with the above combination treatment survived without liver transplantation. Additionally, patients with GALD should not receive their mother's breast milk as there may be ongoing passage of maternal antibodies directed against the newborn liver in this setting.
Currently, it is recommended that any infant in liver failure should be given one dose IVIG while GALD-NH is being considered and further work-up pursued. In patients who receive full treatment (IVIG and DVET) it may take 4-6 weeks or longer for INR to improve, as treatment helps prevent persistent, immune-mediated injury, but does not reverse the liver disease that has already happened. Time is required for hepatocellular growth and repair if it will occur.                            
Liver Transplantation
GALD-NH is a common indication for liver transplantation within the first three months of life. Transplant in neonates is challenging for many reasons, including prematurity, small size, and often, multi-organ failure. While NALF is associated with a higher mortality rate when compared with older infants, posttransplant outcomes were not found to significantly differ between the groups.
Take Home Points
GALD-NH is the most common cause of neonatal acute liver and should be considered in all cases of severe fetal liver injury as well as in cases of stillbirth, fetal demise, and early postnatal death.
Typical lab findings for GALD-NH include marked coagulopathy, normal or only mild elevations in aminotransferases, significantly elevated AFP, and an elevated serum ferritin level typically above 800 ng/mL (while a ferritin level >20,000ng/mL is often an indicator of infection or HLH).
GALD most commonly presents as GALD-NH, and a diagnosis is dependent on demonstrating extrahepatic siderosis for and excluding other causes of neonatal acute liver failure.
Rapid WES is a useful modern tool to help evaluate for other etiologies that could mimic GALD-NH, like HLH
Once a pregnancy has been impacted by GALD-NH, the risk for recurrence in subsequent pregnancies is high. IVIG should be used in future pregnancies.