Mary E. Mccarthy Rinella, MD, FAASLD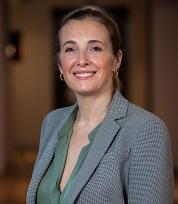 Councilor-at-Large
Mary E. Mccarthy Rinella, MD, FAASLD
University of Chicago Pritzker School of Medicine, Chicago, IL
Dr. Rinella is a Professor of Medicine at University of Chicago Pritzker School of Medicine, Director of the Metabolic and Fatty Liver Program and member of the faculty at the University of Chicago Hospitals.  She received her medical degree from the University of Illinois. She completed her residency training in Internal Medicine at the University of Chicago and her fellowship in Gastroenterology and Hepatology at Northwestern University, where she remains on faculty. She studied basic mechanisms of steatohepatitis with the support of the American Gastroenterological Association and the National Institute of Health for 10 years.
Currently her focus is in clinical research in the area of non-alcoholic fatty liver disease/NASH both before and after liver transplantation. Her primary clinical focus within the NASH realm is on the associations between NASH and other metabolic co-morbidities, emerging NASH therapeutics and the recurrence of NASH after liver transplantation. She recently established a multicenter consortium to study the risk factors for liver disease recurrence and outcomes of patients transplanted for NASH cirrhosis (NailNASH Consortium).
Dr. Rinella has been actively engaged with the AASLD for many years and served in several leadership roles, including Chair of the NASH SIG, Program Evaluation Committee and most recently Chair of the NASH Task Force. She is excited to apply her enthusiasm and expertise to her new role on the AASLD Governing Board.
Disclosures of Potential Conflicts of Interest
Scientific Consulting — Intercept Pharmaceuticals, Gilead Sciences, NGM Biopharmaceuticals, Enanta, Immuron, Fractyl, Prociento, Gelesis, Merck, Bristol-Myers Squibb, Metacrine, Viking Therapeutics, Allergan, Cymabay, Boehringer Ingelheim, Genentech, Sagimet Bio, Terns, Siemens and Novartis.
Dr. Rinella has received independent research grant funding from Novartis.