Cynthia Levy, MD, FAASLD, AGAF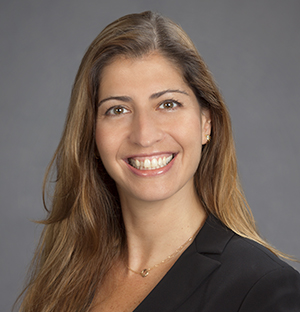 Cynthia Levy, MD, FAASLD, AGAF
University Of Miami Miller School Of Medicine, Miami, Florida
While a medical student at Universidade Federal do Rio de Janeiro in her native Brazil, Cynthia Levy realized that her calling was to be a hepatologist.
"I was assigned to a rotation in the hepatology clinic, and I was inspired by the hepatologist in charge," says Dr. Levy. "I was very impressed with his knowledge and professionalism, and the way he talked to his patients as well as to the medical students."
After completing her medical school and residency in Brazil, Dr. Levy came to the University of Miami to pursue further training. She says that she does not regret having to complete her internal medicine residency again, because during her time in Miami, she first interacted with Eugene Schiff, MD, FAASLD, a Past-President of the AASLD. She found Dr. Schiff to be a tremendously charismatic individual who reinforced her vision of a career in hepatology research and clinical care.
Dr. Levy left Miami's sunny beaches to complete a gastroenterology fellowship at the Mayo Clinic in Rochester, Minnesota, where she was mentored by another AASLD Past-President, Keith Lindor, MD, FAASLD.
"My academic career really began there. As soon as I started working with [Dr. Lindor] on cholestatic and autoimmune liver diseases research, I was assigned to write my first review, which was on primary biliary cholangitis," she recalls. "It is funny how, once you write a review, you are automatically seen as an expert! That certainly encouraged me to deepen my knowledge and expertise in this area and develop a niche. I had a great mentor and sponsor for that in Dr. Lindor." While at Mayo Clinic, Dr. Levy completed her Clinical Research Certificate on clinical trial design, which became her professional passion.
After her time in Minnesota, Dr. Levy returned to the Sunshine State when she was awarded AASLD's Advanced Hepatology Fellowship to train for one year at the University of Florida in Gainesville. At UF, she worked under the guidance of David Nelson, MD, FAASLD, who encouraged her to pursue research efforts in her preferred niche, cholestatic liver diseases. She went on to design her first clinical trial to evaluate treatment of primary biliary cholangitis (PBC) patients who did not respond to the standard of care. Dr. Levy recalls that her time at UF and the success of this clinical trial helped crystallize her ultimate career path: to become a thought leader in the field of cholestatic and autoimmune liver diseases. After the PBC trial ended, Paul Martin, MD, FASSLD, recruited her to return to the University of Miami.
"At the Schiff Center for Liver Diseases, I've been able to establish a team of coordinators and students who help me nourish national and international research collaborations, including registries and clinical trials in cholestatic liver diseases," says Dr. Levy. "It's all come together nicely, but only because of the mentors I've had along the way who have pointed me in the right direction or told me when it was wise to wait until the right time to do certain trials." Patience, she realized, is a powerful tool in the world of clinical trials, where funding opportunities are driven by so many different forces.
Dr. Levy's current research program mainly focuses on rare cholestatic diseases like PBC and primary sclerosing cholangitis (PSC). Her team's research explores potential treatments, advancing the management of symptoms like pruritus and improving the quality of life for liver disease patients, "including after a liver transplant, because the disease can recur," she notes.
As Program Director of the Transplant Hepatology Fellowship, Dr. Levy has embraced the role of mentor, guiding young physicians and researchers. She is the Principal Investigator for the NIH Porphyria Consortium at UM and a Fellow of the American Gastroenterology Association, and she was honored to be named a Fellow of the AASLD in 2017, where she has served on various committees. Her experience with AASLD shaped her into a better leader, she says. Due to her achievements in clinical care and her commitment to liver research, Dr. Levy was also endowed with the Arthur Hertz Chair in Liver Diseases at the University of Miami Miller School of Medicine in June 2019.
Dr. Levy enjoys Miami's international flavor, diverse population, tropical climate, and direct flights to and from Brazil. Dr. Levy enjoys playing the piano and is an avid reader, including novels, histories and books on leadership theory. She listens to podcasts and audiobooks during her daily, 45-minute highway commute. "I love to travel, so I like reading up about the place I'm going to visit, its culture and history, before I go."