John Bucuvalas, MD, FAASLD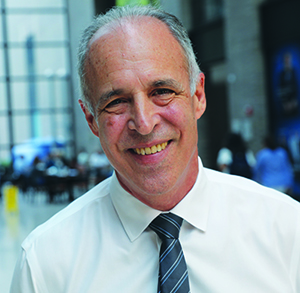 John Bucuvalas, MD, FAASLD
Mt. Sinai Kravis Children's Hospital, New York City, New York
Throughout his pediatric hepatology career, John Bucuvalas, MD, has led liver care programs at major academic hospitals and collaborated on critical research projects, including a recent trial of immunosuppression withdrawal with Sandy Feng, MD. When met with challenges like hierarchical department structures and inefficient clinic layouts, Dr. Bucuvalas looked beyond medicine for answers. He collaborated with professors at Harvard Business School and the Massachusetts Institute of Technology (MIT), and architects from urban design nonprofit LA Más to create management and communication efficiencies in clinical settings.
"If you go back 150 years in medicine, it was the most senior people who knew the most. But millennials are growing up in a completely different world. You learn from different sources," says Dr. Bucuvalas, chief of hepatology and vice chair of faculty affairs in the Jack and Lucy Clark Department of Pediatrics at Mount Sinai Kravis Children's Hospital in New York. "I look for effective internal communications strategies and goals for our team, and we have bi-directional communications."
Before coming to Mt. Sinai, he spent more than 25 years at Cincinnati Children's Hospital, where he was trained by hepatologists Bill Balistreri, Fred Suchy and Ron Sokol. At first, few treatment options were available for his seriously ill young patients.
"In my first year as a fellow, I had nine or 10 kids die due to biliary atresia or acute tumors. It was a challenge to take care of these kids," he says. "I thought, 'How do we get them to live and go on to live full, meaningful lives? But I hit it at the right time, because treatment of viral hepatitis and transplantation became possible."
Cincinnati Children's was the only pediatric hospital awarded a Robert Wood Johnson Foundation grant to help transform healthcare. To achieve that goal, he studied business management and social science. "I started learning concepts that are completely outside of medicine and applying them to health care. It has been really cool to integrate knowledge across many disciplines." His perspective has been shaped by collaborating with leaders like Scott Hamlin, Uma Kotagal, Tom Boat, Jim Anderson, Tom Nolan and Lloyd Provost.
Dr. Bucuvalas noticed that his Cincinnati Children's staff encountered frequent interruptions during rounds, so he consulted architect Elizabeth Timme. Her solution was disarmingly simple: Placing tape on the floors to create paths for people to follow as they went through daily routines. Visual paths helped to increase efficiency. He also studied Harvard Professor Ethan Bernstein's theories, including "the need for privacy and transparency in business. When people make decisions, they need privacy or a safe place to do it," he says. "How do you apply the integration of complementary care and interdisciplinary care? You need to have new knowledge filtered into traditional research. How do we work together? That's what we have learned from social scientists. Now, I am cognizant of when people on my staff need privacy so they can do their jobs more effectively."
The longtime AASLD member become a Fellow (FAASLD) in 2014. "Recognition from a great organization like AASLD that I made a contribution to my field is a special honor," he says. The Boston area native and his wife, Connie, have two grown children, Abby and Zach, and they enjoy traveling and rooting for the New England Patriots.