Jonathan A. Dranoff, MD, FAASLD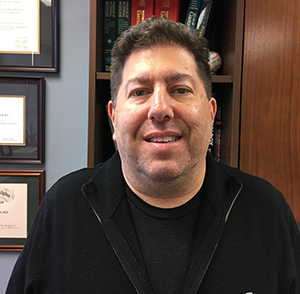 Jonathan A. Dranoff, MD, FAASLD
Yale School of Medicine
During his internal medicine residency at Boston University and Boston City Hospital, Jonathan Dranoff, MD, already knew that he wanted to be a gastroenterologist. But his eventual career path included turns that he did not envision.
"I didn't think I wanted to be an academic physician. Nothing had opened my eyes to that yet," says Dr. Dranoff, an internationally known physician-scientist at the University of Arkansas for Medical Sciences (UAMS) in Little Rock. "The stuff about gastroenterology that seemed exciting to me as a resident was not hepatology."
However, during a digestive diseases fellowship at Yale University Medical School in New Haven, a program with a strong tradition in hepatology, Dr. Dranoff began with a three-month inpatient liver service rotation. He cites "three wonderful, brilliant attending physicians" in the program for showing him the excitement of hepatology that he'd overlooked earlier. "I was hooked. I knew I was going to be a hepatologist."
Among his mentors was former AASLD President Guadalupe "Lupe" Garcia-Tsao, MD, whose "consummate mastery of the field, from disease pathology to clinical manifestations, and a very good ability to devise practical and implementable interventions that actually help people" made strong impressions on him. He also cites Yale's Michael Nathanson, MD, PhD, as an influential mentor. "With Mike, it was his supreme confidence, and a sense of really enjoying himself" that impressed him. Due to these mentors, Dr. Dranoff discovered the path to his current career. "Clinical medicine is a treat when it complements other academic activities."
Victor Navarro, MD, Chair of Hepatology at Einstein Healthcare Network in Philadelphia, was another influence on Dr. Dranoff during his fellowship at Yale in his late 20s.
"He's very confident, and he seemed to get a kick out of doing things in a really high-quality way. It seemed more fun than I expected it to be, and it has been that way for my whole career," he says. "Hepatology is just really fun and challenging, and it rewards people who do their homework and learn."
After opening his own laboratory and working closely with the leadership at Yale Liver Center, Dr. Dranoff was happy with the status quo. But in his late 30s, he was offered a position as a division director in Little Rock. He decided to go for it, moving from the Ivy League campus in New England to the Deep South.
"I thought I had the right combination of skills and personality to thrive as a division director," he says. The attractions of the new position included " the ability to build an entire division based on what I believe in and what I have learned, to recruit talented people, and to bring first-class liver care to an area which had not had it before."
Dr. Dranoff settled in quickly in Little Rock, and says he enjoys the laid-back, friendly nature of this sophisticated city, as well as its easy navigability. "I don't ever want to take two hours to drive to work ever again!" He recognizes that Little Rock is a prosperous city, a state capital, filled with educated professionals and many amenities, in the midst of a rural region where gastroenterologists are scarce, and many patients have to drive up to three hours for care.
"We would rather compete on behalf of academic hepatology. We compete for grants and limited resources, but it's more important for us to feel good about the field itself."
His clinical work focuses on the cholangiopathies, a set of conditions that affect bile duct cells, including primary sclerosing cholangitis and primary biliary cirrhosis. He also has a strong interest in cirrhosis and its complications, and his NIH-supported research explored cirrhosis and liver fibrosis. He also devotes time to act as a mentor to young fellow trainees, continuing the cycle of guidance and support that he experienced early in his career.
"What I get from them is probably more than they get from me. I share my enthusiasm with them as they move forward in their careers," he says. "I am able to find out what someone at that stage of career is thinking, and that knowledge helps me be a better division director and leader. I learn the problems that they encounter and it shows me things we might avoid in the future."
Academic hepatology is a small, close-knit field and a true community where physician-scientists encourage rather than compete with each other, says Dr. Dranoff. "We would rather compete on behalf of academic hepatology. We compete for grants and limited resources, but it's more important for us to feel good about the field itself."
Limited funding is the biggest challenge facing the field today, and the National Institutes of Health and National Institute of Diabetes and Digestive and Kidney Diseases may not be counted on to provide the consistent research funding that is needed, he says. "It's a little scary, and it should scare people. But I hope this leads us to look at new approaches" to funding.
He's been involved with the AASLD since the mid-'90s, when he went to his first meeting in Chicago. The camaraderie he experienced with colleagues there "made it feel like a wonderful use of my time," he says. "There's really nobody doing exactly what I do, because ours is a fairly diverse organization. People have many different opinions, and it's good that there's not a lot of hegemony in academic hepatology. I expect us to continue to have that combination of values."
AASLD offers great value to its members, including advocacy, he says. The association's leaders and staff devote time and attention to members' needs. He completed the AASLD Schering Advanced Fellowship in 2000-2001, and served for a few years as the Chair of the Liver Fibrosis Scientific Investigator Group.
Outside of work, Dr. Dranoff is an avid guitarist and guitar collector. His genres include blues, rock and roll, jazz and country, and he play mostly electric guitar. He loves his three Heritage guitars, made in Kalamazoo, Michigan. While he's performed on stage in the past, his most recent gig was at his Little Rock temple, where he played guitar in a band at a Purimshpiel, a musical play to commemorate the Jewish holiday of Purim.
"I'm not a good singer or actor. But if people want me to play, I'll do it, and I take it seriously," he says. "If I didn't have young kids, I'd probably play guitar more often. At least I'm not a drummer. There's nothing lonelier than carrying a drum kit to the car at 2 a.m."