Laurie D. Deleve, MMD, PhD, FAASLD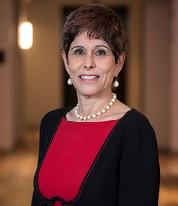 Professor Of Medicine
Laurie D. Deleve, MMD, PhD, FAASLD
University Of Southern California, Keck School Of Medicine, Division Of Gi & Liver Diseases, Los Angeles, California
At several different points early in her medical education and training, mentors pointed Laurie DeLeve, MD, PhD, FAASLD, in a particular area of research: hepatology. When she was in medical school at the Erasmus University of Rotterdam in The Netherlands, Dr. DeLeve was mentored along with a small group of fellow students by an older hepatologist on the faculty.
"Mentoring is absolutely crucial. I've had so many good mentors and role models throughout my life."
"We decided to set up a journal club, and I ran it for four years," says Dr. DeLeve, who is a physician-scientist doing basic science research and is a Professor of Medicine in the Division of Gastrointestinal and Liver Diseases at the University of Southern California (USC) in Los Angeles. She's also run the journal club in her division for the past 28 years. "So I was interested in the liver early on, but I was not yet settled on it." DeLeve instead earned a doctorate in pharmacology at the University of Toronto in Canada.
From Pharmacology to GI/Hep
"There was a guy who ran the clinical pharmacology program across the city, and during my exit interview, he said, 'Hmm…you're interested in drug metabolism? You should sub-specialize in hepatology after your residency,'" says Dr. DeLeve. He made a strong impression on her, so she followed his advice, and completed her internship and residency in Internal Medicine at the University of Michigan, then a fellowship in gastroenterology at the University of California at Los Angeles (UCLA).
"I just got really lucky with a fantastic mentor," she says. More mentors entered her life in the second year of her residency. At the end of her GI consult month, she met with Tadataka "Tachi" Yamada, MD, KBE, who was the chief of GI at the University of Michigan and the future editor-in-chief of Yamada's Textbook of Gastroenterology. "I was interested in research, academic medicine and the liver, and he recommended three different institutions for Gastroenterology Fellowship for my subsequent fellowship. The day after I met with Dr. Yamada, I received a phone call from Neil Kaplowitz, who was then a division chief at UCLA and would later become president of AASLD. He said, 'I understand you are interested in research. Would you come for an extra day to tour my lab if you get a fellowship interview at UCLA?' This was the day after I met with Dr. Yamada, and for a resident to get a call like this was totally unheard of!"
Dr. DeLeve feels that mentors can make a strong positive impact on young researchers who need guidance as they make important decisions for their training and career, and she ran a women's mentoring group at USC for years. "Mentoring is absolutely crucial. I've had so many good mentors and role models throughout my life," she says.
Focus on Microcirculation
With Dr. Kaplowitz as her mentor, Dr. DeLeve focused her research on liver microcirculation, with an early emphasis on toxic liver injury. She spends about one third of her time on administrative work and mentoring tenure-track faculty, including an intense, structured program she instituted that includes ample time for feedback and questions between the mentor and mentee, and regular check-ins by the mentor to find out what the mentee may need. In 2015, DeLeve received the USC/Mellon Mentoring Award for Faculty Mentoring Faculty.
"In this day and age, when funding for research is tight, a lot of young doctors are finishing their training with a lot of debt. It's hard to recruit doctors to go into research when they have so much debt," she says. "Research disciplines thrive when both PhD scientists and physician-scientists are working in a given field, because they each have different strengths. Physician-scientists may have better insight in clinical relevance, whereas PhDs may be better grounded in advanced methodology. When we work together, research moves forward more effectively. It's crucial to make sure that young scientists are well mentored. If you've never written a grant before, having your grant reviewed by an experienced mentor first helps. We didn't have a formal mentoring program at USC before I came here, so this is very gratifying for me. It's one of my proudest achievements."
AASLD Involvement
During Dr. Kaplowitz' tenure as AASLD President, Dr. DeLeve joined the Education Committee. From both Dr. Kaplowitz and another of her mentors, the committee's chair and later AASLD President, Keith Lindor, she learned various administrative "soft" skills.
"I learned a lot about how to run a meeting, and I had a fantastic time. Three years later, Dr. Lindor recommended me to become the next chair of the committee. I love everyone I work with at AASLD, including the staff, who are very fun people to work with," she says. "It's fun and rewarding, and it's my home away from home. At the Member's Reception at the Annual Meeting, I get more hugs than I do the rest of the year combined!" She became a Fellow of the AASLD in 2014.
At home in Los Angeles, Dr. DeLeve says her life away from campus rotates around her daughter and her two dogs, a border terrier and a bichon frisé. She enjoys regular workouts, wine and spending time with her many friends.
"I spend about four hours every weekend walking my dogs," she says. "I'm known as a grill master also. My gas grill is only steps from the kitchen door. We have two seasons here in Southern California: summer and ski season. I love skiing and snowboarding, but my knees do not – I've had two crunched menisci. So no more skiing. Now, it's scuba diving when I travel."