Vijay H. Shah, MD, FAASLD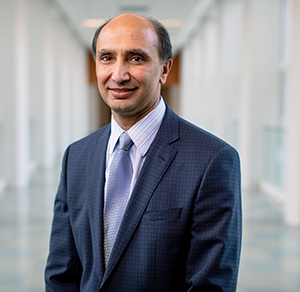 Vijay H. Shah, MD, FAASLD
Mayo Clinic Rochester, Minnesota
Hepatology is a journey, says Vijay H. Shah, MD, a Fellow of AASLD since 2018 and the Chair of Gastroenterology and Hepatology Division at the Mayo Clinic Department of Internal Medicine in Rochester, Minnesota.
"The vision that inspires me is to develop a world where people don't suffer from liver disease. That is a big vision. That's the vision of the leaders at AASLD." Achieving that goal will take leaders with skills like careful listening, teamwork, delegating tasks, time management and compassion, which are not taught in medical school, he says.
"Successful leaders need different skills at different points in their career. Early on, trainees depend on grit. That's how the medical system works. You succeed because you work hard, have a high IQ and achieve goals. But, as people reach mid-career, you realize that grit is not scalable. It's at that point that you recognize the value of teamwork or 'EQ,' emotional intelligence. It's the ability to work as a team and to inspire teams, that is more scalable. You mentor and inspire the team, and everyone benefits," he says.
Dr. Shah was inspired and guided by mentors throughout his career, starting with Peter Kahrilas, MD, of Northwestern University's Feinberg School of Medicine, where Dr. Shah completed a combined six-year undergraduate and medical degree program, followed by his internal medicine residency. Another early influence was the late Andy Blei, MD, "who pointed me toward research in portal hypertension. I wanted to be just like him," he says. Dr. Shah completed a fellowship in digestive diseases at Yale University with mentors Roberto Grossman, MD and William C. Sessa, PhD. At Yale, he recognized the need to gain more molecular technology skills and sought that training.
As a trainee, Dr. Shah worked in inner-city hospitals where alcohol-related liver diseases were rampant. This inspired by many years of research on disease mechanisms in ARLDs, as well as identifying biomarkers that could translate to successful treatments.
"Patients were suffering with severe physical problems like encephalopathy, ascites and GI bleeding. They had coexisting psychological conditions. They had burned bridges with their families and lost social connections. Alcoholism bridges the physical, emotional and social aspects of health." At the time, most felt that little could be done for these patients, and there wasn't much to study. "When we realized there was a genetic component to the disease, and that we can have a positive impact on people with treatments for substance abuse and for their physical disease, it all changed."
Despite the burden on so many patients' lives, limited research funding was available. "It was really a mismatch. But at Mayo, we are exploring pathways for new drug development, and translational research through biospecimens, and a number of clinical trials are ongoing now. We've had success with specific molecules, and some potential treatments are very exciting, but more advanced trials are needed," he says. "Even with the potential blood biomarkers we have identified, we have to keep working to find better biomarkers and better treatments."
Dr. Shah embraces the role of "servant-leader," one who helps and inspires those around them, and by doing so, helps the organization as a whole. He learns leadership concepts from his wife, Pri Shah, PhD, who teaches organizational development and training at the University of Minnesota. "She's taught me to focus on people. A common mistake is to focus on strategy, not people. Without engaged people on your team, your strategy will go nowhere."
Leadership does not require a title or years of experience, but the willingness to lead by example, he says. "The organizational chart doesn't always match where people look for inspiration. At each step of my career where I've had to lead others – as the head of a care team, a laboratory team, as a chair or the chief of a division – I realized that some skills are universal. But you need so many new skills as you grow. Leadership is about learning. If you're too busy, you're probably doing the wrong things. We all need to ask ourselves, 'Where am I spending my time?' That's what I discuss with our junior faculty."
The Shahs have two daughters, ages 20 and 17, and enjoy family skiing vacations. He plays guitar, and he's jammed with Jonathan Dranoff, MD, also a Fellow of the AASLD. "I remember that when we were fellows, at our apartment in New Haven, Jon got on top of my living room coffee table and started playing guitar. My wife had questions!" Dr. Shah recalls. "I love all kinds of music, from opera to hard rock. When I'm exercising, I like to listen to hard rock. When I am contemplating, I listen to classical and opera."