Vinay Sundaram, MD, MSc, FACP, FAASLD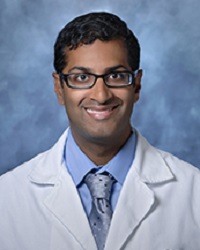 Vinay Sundaram, MD, MSc, FACP, FAASLD
It is with profound sadness that AASLD acknowledges the passing of Vinay Sundaram, MD, MSc, FACP, FAASLD. Dr. Sundaram was a distinguished physician-scientist and leader in hepatology, a generous mentor, a doting father and husband, devoted brother, and a dear friend. He passed away surrounded by his family on July 14, 2022. He touched countless lives and we are privileged to share this tribute in his memory.
"At every stop along the way in his career, he formed lifelong friendships" - Dr. Michelle Lai
Dr. Sundaram was born on May 21, 1978 in Paterson, New Jersey, to two loving parents, Drs. Savitri and Subramoni Sundaram, and grew up in Randolph, New Jersey as the eldest of three siblings. He graduated from the New York University School of Medicine in 2004 and completed his residency at the University of Virginia Medical Center in Charlottesville in 2007. Dr. Sundaram also completed fellowships in gastroenterology at the University of Pittsburgh Medical Center and hepatology at Beth Israel Deaconess Medical Center (Harvard Medical School) in 2010 and 2011, respectively.  He began as a transplant hepatologist at Cedars-Sinai Medical Center shortly after, where he remained throughout the entirety of his career.  Dr. Sundaram's closest family and friends described him as a pillar in their lives, a person who could instill compassion, genuine curiosity, and excellence into everything he did on a daily basis.  
"Dr. Sundaram was legendary for his dedication to his patients" - Dr. Alex Kuo
            When it came to his transplant hepatology practice at Cedars-Sinai Medical Center, Dr. Sundaram was not only regarded by his patients with liver disease as a brilliant doctor but also their fiercest advocate.   He regularly called his patients with lab results, even if they were normal, which his patients loved him for.  When patients could not be listed at his own center, he leveraged close connections with colleagues at other institutions to arrange evaluations, saving countless lives.  In life, he was world renowned as a transplant hepatologist. In death, he became an organ donor, saving even more lives with his last act.
"The ACLF community has lost a pioneer." - Dr. Ruben Hernaez
            Dr. Sundaram leaves a profound legacy of advancing the science of liver disease.  During his career, Dr. Sundaram's research resulted in the publication of 143 papers on many topics but his passion was for the role and challenges of liver transplantation in acute-on-chronic liver failure (ACLF). Amongst many contributions, he showed that patients with high-grade ACLF had very high mortality rates despite relatively low model for end-stage liver disease (MELD) scores; he demonstrated that improvement of ACLF grade enhanced post-transplant survival; and he established multiple risk factors for poor outcomes among those with ACLF.  In addition to contributing to greater scientific rigor in the field, Dr. Sundaram found opportunities to advocate on behalf of this vulnerable patient group. He regularly engaged in debates with other leaders in the field, advancing knowledge and role-modelling productive discourse across differences. He would reach out, find common ground and develop collaborations. Dr. Sundaram was instrumental in building and growing the CHANCE study, a massive initiative to clarify the role of liver transplantation in ACLF under the leadership of his mentor, Dr. Rajiv Jalan. He was a devoted member and educator of the AASLD ACLF Special Interest Group, where he was a Steering Committee member. He participated in numerous webinar campaigns to raise awareness about ACLF and issues when considering liver transplantation in these patients.
"He changed the trajectory of my career. I am a different, and better, human because of Vinay Sundaram. He was my friend" - Dr. Christina Lindenmeyer 
Dr. Sundaram's talents for science were only matched by his unique vision to expand the growth and diversity of the hepatology workforce.  For these initiatives, he was our community's beating heart.  He was uniquely skilled as a mentor. He created safe spaces for his mentees, growing the careers of many men and women, supporting needs both academic and personal, all across the country. He sought out young hepatologists both locally and across the country, making himself available, learning about their dreams and goals and engaging effectively to help them along the way. He was proud of his mentees' successes and radiated joy in creating connections and fruitful collaborations.  Over his career, he continued to advocate for trainees.  Within his home institution at Cedars-Sinai, he was instrumental in the creation of the transplant hepatology fellowship program.  Within the Los Angeles community and across the country, he held leadership and membership positions at a number of esteemed societies to further his vision of building better structures to support trainees.   He developed and led new trainee-oriented programming for AASLD and The Liver Meeting. He led the AASLD Membership and Mentorship Committee and played a pivotal role in assuring the future and growth of the Emerging Liver Scholars Resident Program and shepherded the transition of funding to the AASLD Foundation's umbrella.  He then went on to serve as chair of the AASLD Clinical Practice SIG Education Subcommittee.  In Southern California, he organized debates for trainees to shine through the American Liver Foundation and established through the Southern California Society for Gastroenterology a series of lectures for fellows on hepatology and career development.  He held a number of leadership and membership positions in esteemed local and national institutions (UNOS Membership and Professional Standards Committee, Chronic Liver Disease Foundation Board of Advisors, Medical Advisory Committee for the American Liver Foundation) to further advance these causes.
"I still remember the day he told me his daughter was born…not a prouder father did I know!" – Bette Anne Preston
Amidst all his incredible professional accolades, Dr. Sundaram made it clear to all his colleagues that his greatest personal accomplishments were being a father to his daughter Divya and husband to his loving wife Dr. Ashwini Lakshmanan.  He would relish in opportunities to show pictures of his family and celebrate their accomplishments, however big or small.  
As Vinay's colleagues, we are privileged to have seen him thrive in his pursuits of scientific excellence and dedication to his patients and trainees. These were cut short in an untimely fashion.  Vinay's passing leaves a void. He will be missed but never forgotten. To preserve his legacy, in his memory we should embrace those things he did best. We must make the most of the present. We should be kind to each other, cultivating friendships throughout our community for the betterment of our patients, our science, and ourselves. We should renew our commitment to mentorship. We should find joy in our clinics and our research. And we should be present and loving to our families. Vinay, we thank you for all you have done for our hepatology family and for inviting us into your own.  May you rest in peace.
Donations to support the Dr. Vinay Sundaram Legacy Fund can be made here: http://my.aasldfoundation.org/drvinaysundaram     
Written by:
Arpan Patel MD, PhD
Christina Lindenmeyer MD
Jeffrey Kahn MD
Alexander Kuo MD
Shelly Lu MD
Michelle Lai MD MPH
Ruben Hernaez MD
Ashwini Lakshmanan MD MS MPH
Elliot Tapper MD
Mazen Nourredin MD