Vinay Sundaram, MD, FAASLD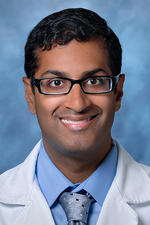 Vinay Sundaram, MD, FAASLD
Membership and Mentorship Committee Chair
AASLD News spoke with Vinay Sundaram, MD, Membership and Mentorship Committee Chair, to get his perspective on AASLD membership and why he has been an active participant in the organization since joining in 2010.
How did you hear about AASLD? What prompted you to join?
I first learned of the AASLD when I was an internal medicine resident. I developed an interest in hepatology during my rotation on the liver service, due to the complexity of the patients I was caring for. Under the advice of my residency mentor, I then applied for and received the resident scholar travel award, which is now called the Emerging Liver Scholars Award. I really enjoyed my experience at my first Liver Meeting, particularly due to the amazing research developments I was witnessing. My residency mentor was also very involved in ensuring that I had a good experience, by introducing me to other hepatologists throughout the country and keeping me engaged in the meeting. My desire to join AASLD stemmed from the great experience I had when attending that meeting. Once I knew that I wanted to pursue a career in hepatology, it seemed very clear to me that I should join the largest professional society for hepatologists.
Over the years, how have you participated with the organization?
I've attended The Liver Meeting® (TLM) every year since 2012, as a regular AASLD member. I attended the meetings during my fellowship training as well.
I've served on the Membership and Mentorship Committee for four years and now am the chair of this committee. As part of my role as the new chair, I am looking for ways to improve our mentoring programs and to increase member benefits, so that all members believe they are getting the most out of their membership.
I've also presented at AASLD webinars and spoken at TLM. I've mentored several residents who have been Emerging Liver Scholars. Finally, my research has been published in several of the AASLD journals.
How do you see the work of AASLD making a difference in advancing the field of hepatology and, ultimately, patient care?
There are a variety of ways in which AASLD accomplishes these goals of making a difference in hepatology and patient care. First, AASLD is a society that strongly promotes research by maintaining multiple funding mechanisms for early and mid-career investigators. One of the priorities of AASLD, in fact, is to foster a successful career in research for all of its members. Additionally, AASLD is actively involved in disseminating scientific advances in the field through their journals, webinars, and TLM. Second, AASLD provides a community by which all providers who care for patients with liver disease can speak to and learn from each other. Therefore, practitioners can provide the best care for their patients by having access to other members in the same field to provide opinions regarding their approach to complex clinical cases.
How have these activities impacted you, your patients, and your practice?
I believe my activities within AASLD have been vital for my career growth. Although my primary job is to see patients, I'm also employed by a university-affiliated teaching hospital and am therefore expected to demonstrate academic accomplishments. The recognition that AASLD has provided to me through a combination of speaking, networking, and committee leadership has been essential toward demonstrating such academic accomplishments to my institution, which is particularly important at the time of review for promotion.
In addition, when you receive recognition from a professional society such as AASLD, other physicians in the community will learn about you and your accomplishments, even if they are not hepatologists or AASLD members. Therefore, I believe that engagement with AASLD has enhanced my reputation within the community, allowing for local speaking opportunities and increasing my patient referral base.
In terms of how my AASLD membership has affected my patients, this is primarily related through the easy facilitation of learning about cutting-edge research and developments in the field of hepatology, which can then be applied to my patients. A patient's confidence in their doctor improves when they know that he or she is staying up to date in their field, particularly since patients are becoming far more engaged in their own health.
What would you tell a new AASLD member about why and how to get involved?
For a health care provider, the vast majority of your daily time is dedicated to your work. Therefore, it is ideal to have a professional environment that makes this aspect of your life enjoyable. That's where AASLD can be a valuable resource.
AASLD provides numerous ways to become engaged in the field of hepatology in terms of research, speaking, one-on-one mentorship, and leadership. In addition, joining AASLD provides you a community of friends and colleagues who practice in the same profession and can therefore help make the work aspect of your life more pleasurable and fulfilling.
The earlier you become involved with AASLD, the more opportunities you will have over your career. However, it's never too late to get involved. The best places to start, in my opinion, are with the Special Interest Groups (SIGs). Members can join as many SIGs as they like online, and each group has their own activities, such as webinars and in-person symposia, that offer opportunities for teaching, networking, and leadership.
There's also this possibility of being involved in AASLD committees. Though this ultimately requires approval from the Governing Board, anyone can self-nominate and explain why they desire to join a certain committee. I nominated myself three years in a row for the Membership and Mentorship Committee before I finally received the invitation to join!
And finally, attend TLM. This will allow you the best opportunity to directly engage with others in the hepatology community.
What is your favorite thing about being an AASLD member?
There are many things I like about being a member, and it is difficult to pick one. But if I had to choose, I would say it is the access to a broad community of practitioners in the field of liver disease, who I can learn from and collaborate with. In this new era of virtual meetings, members from across the world can now meet and work with each other.
What can AASLD members expect in the future from the Membership and Mentorship Committee?
Given the importance of networking and mentoring, we are working on providing an avenue for trainees and junior faculty to virtually meet with volunteer mentors on a longitudinal basis. This initiative is expected to be available by the end of this summer.